Automatic sensor flush was designed to allow people to flush the toilet or urinal without physical contact, thereby improving hygiene in the bathroom. A toilet or urinal flush valve should only work when there is a need to flush the waste from the fixture.
What is an automatic flush valve?
Automatic flush valves are sensor-operated valves for flushing tankless toilets and urinals. Also known as automatic flushometers, these flow-control devices don't require user contact to activate, so they help decrease the spread of germs and bacteria. Their sensor automatically triggers flushing after a set time period or once a user has moved out of sensing range. They're ideal for ensuring flushing in public restrooms and high-use areas.
Sensor Function:
When a people stand in front of the sensor for over 2-3 seconds, the sensor light flashes once and the sensor is ready for work, and it automatically flushes the water when detects the people leave after 2 seconds. This function is good to solve the mis-action, save water and energy, is a good selection.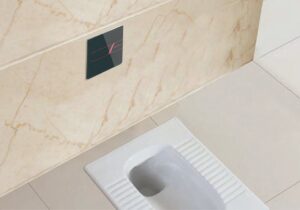 Rajeyn designed a black tempered glass panel sensor flush, at present, we have two items as the below pictures show. We provide OEM services, like different colors, clients customized brand logos, packing, and so on. This black glass appearance looks fashionable and elegant, they are suitable for decorating high-end hotels, restaurants, buildings, etc.
With the development of infrared technology, the sensor flush is no longer limited to use in the public area or high-end hotels, it is more and more popular to go into the family house.
Home touchless toilets are a step in the right direction for our society. They're becoming more popular because they eliminate the need to physically touch the toilet after you've used it. They are more beneficial now than ever in this age of the Covid-19 pandemic, and we all want to avoid physical contact with others at all costs.
Rajeyn Electronic will forge ahead to create value for customers, a better life for employees, benefits for the enterprise, and fulfill responsibilities for society. Our mission is to provide leading intelligent kitchen and bath solutions and create safe, healthy and comfortable life for all users.