After COVID-19, people pay more and more attention to hygiene and safe by using touchless sensor sanitary wares in public areas, like touchless faucets, touchless urinal flushers, touchless toilet flushers, touchless soap dispensers, and so on. These sensor sanitary wares are widely used in shopping malls, hotels, airports, train stations, railway stations, schools, and hospitals.
Today, we gonna tell more about sensor urinal flush valves, it includes different types, exposed sensor urinal flush, concealed auto urinal flusher, and built-in ceramic auto urinal flusher.
Exposed Sensor Urinal Flush System

Exposed Sensor Urinal Flushers are suitable for creating a new project or retrofitting an old project, normally it is externally mounted and visible on the walls. With a solid brass flush body, durable and good look. This type of auto urinal is powered by DC6V batteries
Concealed Sensor Urinal Flush System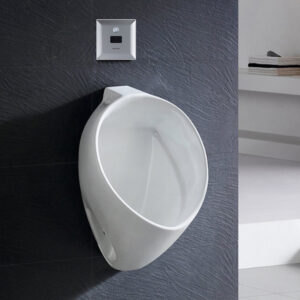 Concealed Sensor Urinal Flush valves are more suitable for new projects, the pipes and control box are to be hidden from view, only can see a beautiful sensor plate that is décoring the wall. This means the spare pipes will also be concealed and run behind the sensor panels. It can be powered by DC6V batteries power and main power.
Built-in Ceramic Urinal Sensor Flush System
Built-in Ceramic Urinal Sensor Flush System means that IR sensor kits are directly built-in the urinal or some sensor kits even with a nozzle to flush water, which allows the ceramic urinal with multi-designed, to meet various applications and demands.
With the increasing need for worldwide water conservation, sensor urinals are becoming more and more popular, high-efficiency auto urinals are becoming more professional, and recognize how much we have to gain by using less water. From a traditional flush manual operation to now popular sensor-operated auto flush, we make it easy for you to choose an auto urinal flushometer that will fit your needs.