How about upgrading space with sensor faucets for improved hygiene and convenience? Just explore range of touch-free and water-saving sensor faucets featuring stylish designs and easy installation. You will find the sensor faucets save time and reduce water waste with advanced sensor technology. The most important is they are ideal for homes, offices, and commercial spaces. Rajeyn's high-quality sensor faucets offer modern solution to plumbing needs. Check now and elevate bathroom or kitchen with reliable sensor faucets. Today we will recommend Rajeyn's new arrival dual sensor smart basin faucet RJY-11-Z201D.
This model includes following features.
● Eco-friendly waterways, meet international standards. The water will not directly go through faucet body. Instead there's a water hose connecting to the water spout, which ensures that the faucet meet international standard. It's safe to have water even though the faucet body is made of zinc alloy.
● Real-time temperature digital display. You will find at the top of the faucet body, there's a piece of tempered glass and the water temperature will be displayed on it. It's real-time show and the user will immediately know the water temperature.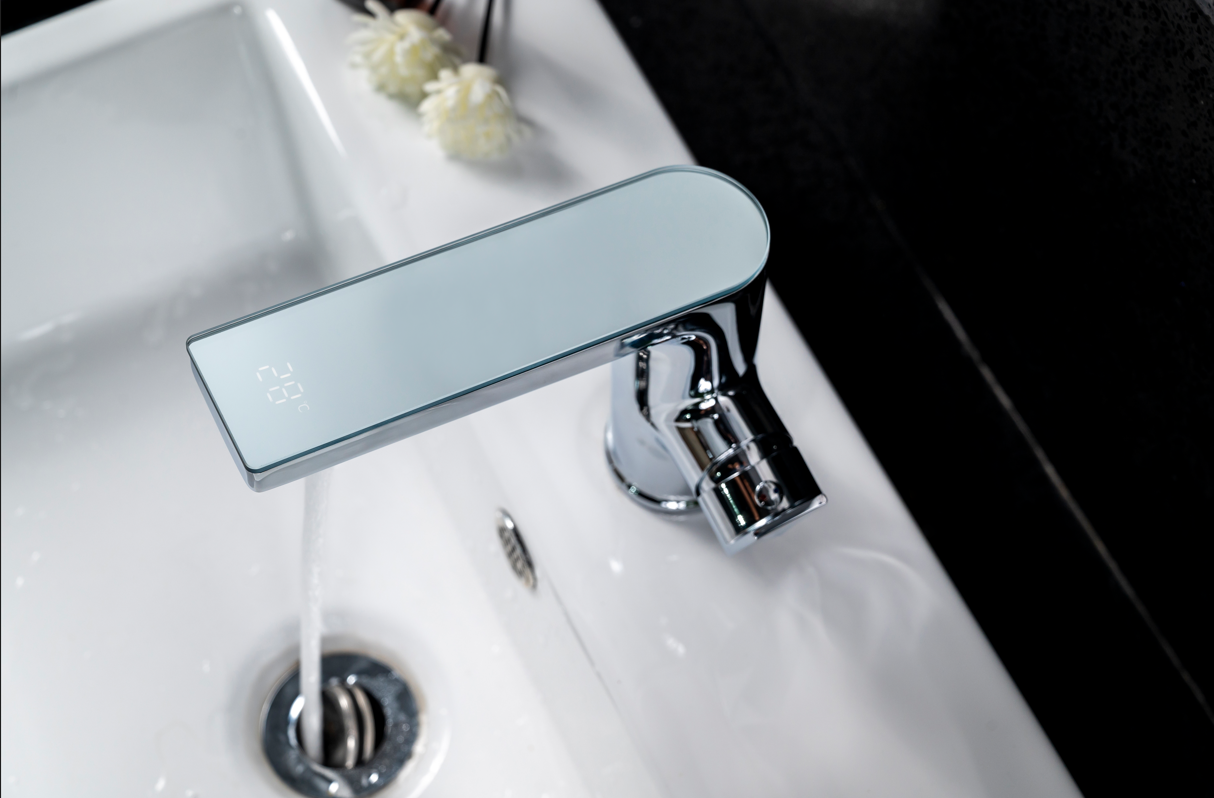 ● Built-in solenoid valve, adjustable water temperature. This touchfree faucet is all-in-one type. The solenoid valve and sensors are fixed to the faucet body. There's only battery pack or power source connecting outside. In this case, it's easy to install. At the same time, the user is capable of taking out the tempered glass cover to replace solenoid valve or sensor if needed. This makes maintenance easy and fast.
● Automatic on/off sensor and wave on/off sensor. There are two sensors. One sensor is fixed nearby the water spout. It's automaitc sensor. Your hands in the sensor range, water comes out. Your hands removes the sensor range, water stops. It's like a regular automatic water tap. The other sensor is on the left side of the faucet body for wave on and wave off. The user waves the sensor, water comes out. The user waves the sensor again, water stops.
● Patented astigmatism technology, effectively solves mirror reflection. This technology is completely new. You may notice that when the sensor nearby the spout, the sensor will easily detect the basin stainless steel part and automatically flows. Because the sensor range will be automatically lengthed if detects to shining surface. But with Rajeyn's astigmatism technology, the sensor range will not be lengthed but shortened to avoid such problem.
● DC/AC power supply. Dual power source will make it easy meeting different requirements. It's optional for DC / AC or both.