Kitchen normally means food. Food healthy is very importance in daily life. How to make kitchen work more convenient and healthier? Why not get a touch free motion sensor kitchen faucet?
If you do kitchen work often, you will find how you don't want to touch the faucet handle when you get mess in your hands. At that time, you would use your wrist or arm to operate the handle. While a touch free motion faucet will solve this problem easily. You can motion before the sensor with anything. And no worry to make the faucet dirty or food with bacterial.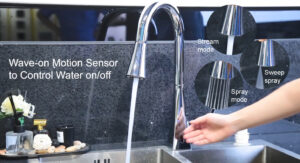 Besides the motion function, this faucet is with a rotatable gooseneck and pull down sprayer. It will help when you need to clean the sink.
As for the sprayer, it is with switchable water flow. You can choose different water flow easily through the button on the sprayer.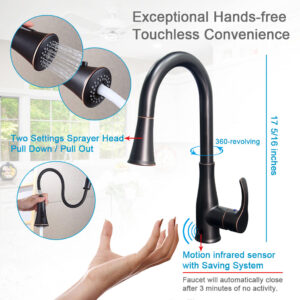 What is the power supply? It is only 4 AA alkaline batteries which can last 1-2 years. And it is also very easy to replace it with the clip design like a drawer.
What if you don't have battery backup at home or the sensor need repairment? Also no worry about that. There is a switch on the control box. User can always switch the faucet to a manual faucet quickly.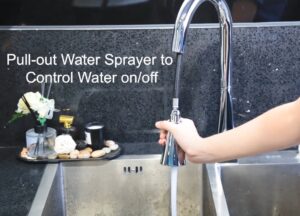 Need more details. just contact us freely.