Automatic flushing: pre-flush 2 seconds and after flush 6 seconds. After-flush timing adjustable by remote controller. Adjustable range 3-24 seconds.
Low power reminding: When the battery is low, the indicator light flashes for 10 seconds to remind you of replacing with new batteries. The flush valve will not flush.
Anti-reverse wire connection: The sensor will not be heat or damaged if the power supply wire positive and negative terminals are reversely connected. The sensor will work normally if wires are correctly connected.
Power protection: When the battery or mains power suddenly cut off, the sensor will automatically turn off the solenoid valve within 20 seconds.
It is suitable for the separate design of sensor plate and water flush nozzle. The sensor plate is designed according to the ceramic opening size.
Sensor plate is made of stainless steel or copper.
Product includes: sensor plate + solenoid valve (with water sealing rubber) + water inlet hose + power supply.
| ITEMS | Parameters | ITEMS | Parameters |
| --- | --- | --- | --- |
| The max Voltage | 8V | Sensor Distance | 65CM±10% |
| Working Voltage | DC6V/AC220V(50~60Hz) | Working Life | ≥250,000 circles |
| Static Current | ≤25uA | Working Temperature | 1~60℃ |
| Working Current | ≥300mA | Storage Temperature | -20~70℃ |
| Battery Life Span | ≥2Years | Working Pressure | 0.05~0.6MPa |
| Water Temperature | 1~60℃ | Blasting Pressure | 3.45MPa ≤300S |
| Working Mode | User in the sensor range for 3 seconds, the flush valve will go to 2 seconds pre-flush. User leaves sensor range for 3 seconds, the flush valve will go to 6s after-flush. | Inlet/Outlet Size | G1/2 |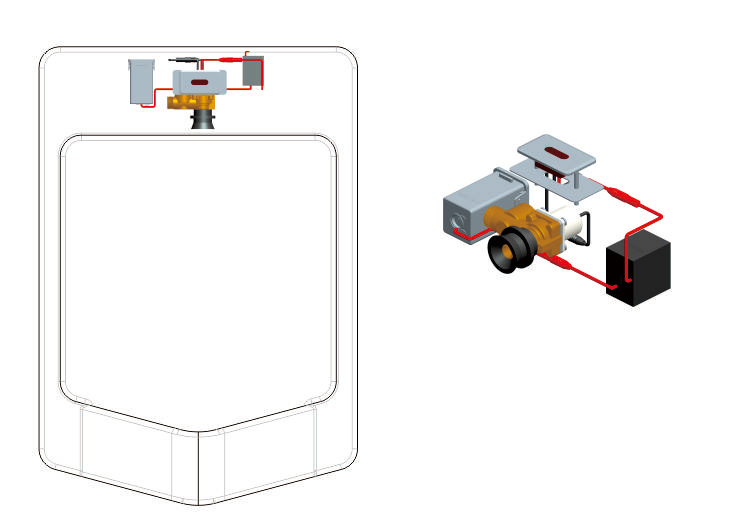 Specification and Installation