Nowadays, hands-free technology is making our life easier and more convenient. Sensor taps are one of the most common application in our life. It makes our water life healthier and more efficient.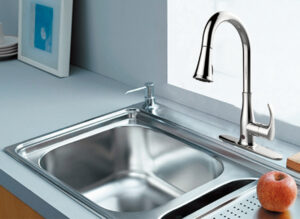 Usually we see sensor taps used in commercial bathrooms. It helps to save water and decrease the spread of germs and bacteria in public. Now, more and more families start getting them into their homes.
Here are some of the benefits of sensor taps:
(1) It makes our home modern and fashion
(2) It is very helpful when our hands are full or dirty and need water
(3) It helps to reduce the spread of germs and bacteria
(4) It saves water compared with traditional faucets
Something need to know when choosing sensor taps for home:
1. Sensor technology
For kitchen taps, it is usually wave-on motion sensor type. The function is that when a user waves hands within the sensor range, water flows automatically; and when hands wave again, water stops. It is just like we operate traditional taps, but without touching. Following is one the types of kitchen faucet with pull down sprayer.
For bathroom taps, the basic function is like the ones we see in commercial bathroom. The function is that when a user reaches out their hands into the sensor range, water flows automatically, and when the hands leave, water stops automatically. It is suitable for quick washing, like washing dirty hands. But for home use, sometimes we want to load a basin of water and it might be ridiculous to keep our hands in the sensor range all the time before we want to stop the water. So there will usually have additional function for continuous water flow. Following is one of our models designed for home bathroom. It is with an  automatic sensor at tap spout, one touch sensor for continuous water and also temperature display.
2. Power Source
Power source is the basic of any electronics. Sensor taps also need power source. Usually there are two kinds, battery power supply and AC power supply. The advantage of battery power supply is that you can replace the batteries easily and the disadvantage is that you must remember to replace them. The advantage of AC power is that you have no need to remember battery replacement things. But there is problem when suddenly power supply is cut off. There is also a choice that to have both. When AC power available, it will use AC power and when AC power is cut off, it will switch to battery supply automatically. For home use, here we recommend battery power or both battery and AC power. Rajeyn have been making sensors for 20 years and the power consumption is controlled very low. Batteries can last 1-2 years.
For more details, just contact us freely. You can also contact sales3@rajeyn.com or +86 17750312712 for a quick response.