Touchless automatic soap dispensers eliminate the need for pumps or buttons and are a great way to reduce the spread of germs. The contactless system ensures that there is no cross-contamination between users, which is especially important in high-traffic areas.
Rajeyn automatic sensor soap dispenser is Brass Soap Spout construction and it's installed in the sink vicinity near the faucet. It is available in battery power or optional AC power. Soap is refillable from below the counter.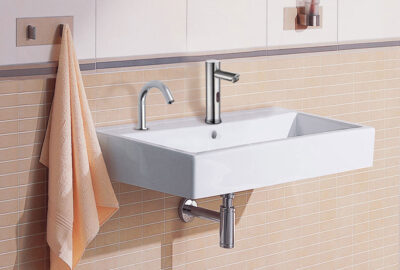 Automatic sensor soap dispenser function:
Automatic on/off, Soap dispenser automatically supplies foam soap as one puts hands under the spout. The soap dispenser automatically stops supplying soap after 1.5s. It is suggested to clean the soap hoses with clean tap water if you will not use the soap dispenser for more than 1 week. How to clean: please pour clean tap water into the soap bottle and sense the soap dispenser until the tap water is dispensed.
In order to protect your family's health, start by experiencing a new way of washing your hands. Just put your hand in front of the sensor and automatically dispense the rich and dense foam helps you cleanse your hands effectively while providing gentle protection.
Today, the world is changing a lot and everything is becoming automated. The automation of things is increasing and we can find it everywhere. Automation has become a necessity in our lives and it is the best solution to our problems.
Hands-free automatic sensor soap dispensers have many advantages over manual soap dispensers.
Touch-free operation
Refillable 1000 ml soap bottle
Low battery reminder
AC/DC power supply
In-Built Infrared Sensor
Control Soap Volume
Applications: Public Restroom, Railway Station, School, Colleges, Malls, Commercial Malls, Industrial Area, Hotel, Restaurant