A sensor faucet control box is a square box that sits or mounted underneath the sink as part of a typical sensor electronic faucet installation process. It is like a hub which enables water to flow IN and OUT. When you open up a control box, you will find a solenoid valve, battery case/transformer (adapter) and infrared signal wire connection. Rajeyn has different control boxes for both basin and kitchen faucets. Today we will have brief introduction of control box RJY-K07 for touchfree basin and kitchen faucets.

RJY-K07 control box is small size and solenoid valve can be brass material or BSF material (plastic). It's reported that most of valves in US market using this material. This material is NSF approved and it's strong enough to connect S/S water hose. It's suggested using BSF valve instead of brass one if the end market require lead-free brass.
There are actually two designs for K07 control box. One design is for bathroom faucets, which is no manual knob.The other design is for kitchen faucets with a manual knob. This knob should be turned on if the sensor is not working. So customers can use manual handle to control water on/off (as a regular kitchen faucet).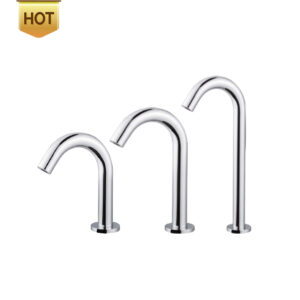 This control box is powered by 4pcs AA alkaline batteries and the battery life span is 1.5-2 years based on 3000 circles per month. The batteries are "backup" if the control box is connected to AC adapter. The batteries will automatically supply power if there's loss of power. It's easy to replace batteries for RJY-K07 control box. You take out of the battery case cover and the battery box will pump out. Replace with new batteries and cover back the battery cover. The whole process are no need any tools.
RJY-K07 is widely used for auto-calibrated sensor distance faucets since this type of faucets are with two PCBA. One is main PCBA inside the control box and the other PCBA is to the faucet body. Customers do not need to adjust the sensor distance manually. Instead the sensor will automatically set the best sensor distance based on the working conditions. Following faucets are the typical models.