The faucet is a very important part of every kitchen. Having the right faucet will give you peace of mind while working in the kitchen. On the other hand, a poorly made faucet will not only make kitchen work more difficult, but it will also make the overall situation messier.
Infrared technology is finally making its way into the kitchen via sensor taps, making the kitchen a safer and more convenient place to cook.
These types of automatic faucets can be a good choice for many different reasons. The best part about these faucets is that they are all touchless and the sensor will make the faucet work automatically. This will allow you to multitask in the kitchen and save unnecessary water. Usually, these types of touchless faucets are found in restaurants, hotels, or other large venues, but this new technology is becoming more and more popular in homes. These faucets are a great choice for children's bathrooms or sinks where the user's hands are full.
Let me introduce Rajeyn's fancy sensor kitchen faucets:
(1) Lead-free materials, composed of commercial stainless steel make it built to last more than 10 years.
(2) Easy to use. All you have to do is wave your hand over the sensor to start and stop the flow of water, you don't have to touch the faucet with dirty or wet hands. Also, you can use the faucet manually by using the single lever handle.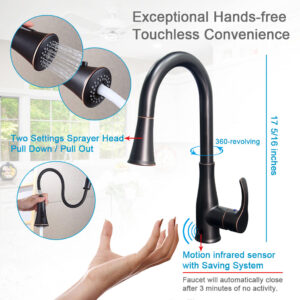 (3) Multifunction spray head and a pull-out sprayer. This feature helps us to switch between two or three spray modes with a tap of a button. Spray mode is ideal for everyday tasks, Stream mode is perfect for filling pots and pans, and Sweep mode washes away the dishes more easily. When done, the braided nylon hose pulls back automatically and smoothly docks in place. Moreover, the flow of water automatically shuts off after three minutes which helps to conserve water.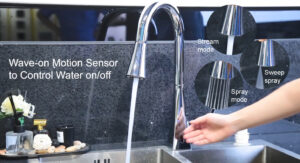 (4) Easy to install. You won't need a plumber as the company says it can be done within 30 minutes. It designs to fit single-hole or 3-hole sinks.