Rajeyn launched a new exposed urinal flush valve RJY-21-B102D. It has the same function as RJY-21-B101D and It's all-in-one type, too which means the sensor, solenoid valve and battery pack are all inside of the flush valve body. But this new type includes a standby manual override. The most important is this manual override is mechanical not electronic, which means the water flush can be activated by the manual knob if the sensor is not working. Below is the general technical parameters.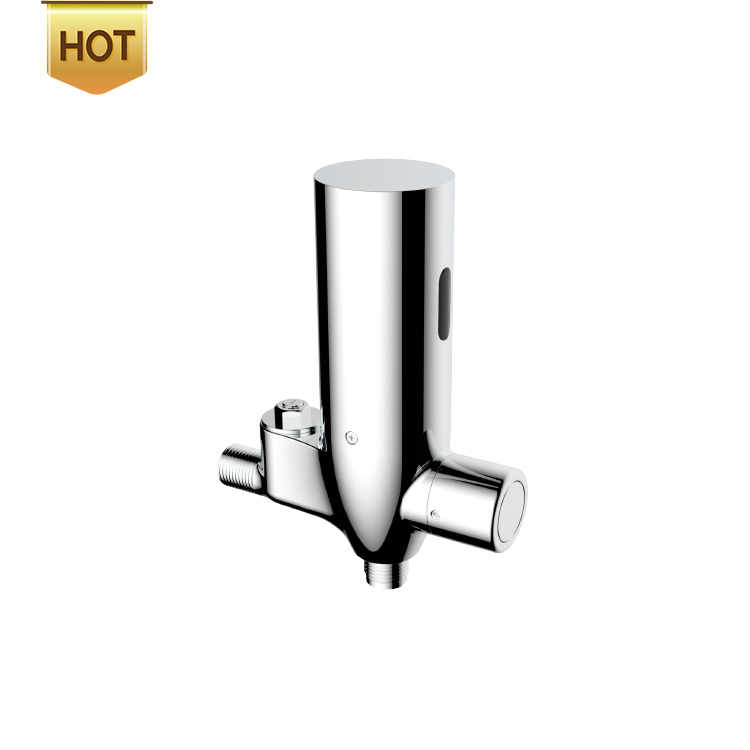 Product Name
Automatic Urinal Flush 6202D
Power Supply
DC6V
Operation Consumption
<60uA
Dynamic Power Consumption
<180mA
Sensing Distance
35-65cm (adjustable)
Flush Duration
Period 1: about 2 seconds
Period 2: about 6 seconds
Water Pressure
0.1-0.7 Mpa
Water Inlet Specification
DN15 (G1/2″)
Water Flow
2-5L/flush time (0.3Mpa)
Similar to regular sensor urinals, the touchfree urinal with manual knob have following features.
#1. Hygiene. Touchless design urinal flush valve provides hands-free and germ-free operation.
#2. Convenience. You just leave the urinal after using, then the urinal flush valve will automatically flush.
#3. Standby manual override. The system will work with the manual knob if the sensor is not working.
#4. Water saving. Water efficient faucet reduces overall water usage without sacrificing water pressure.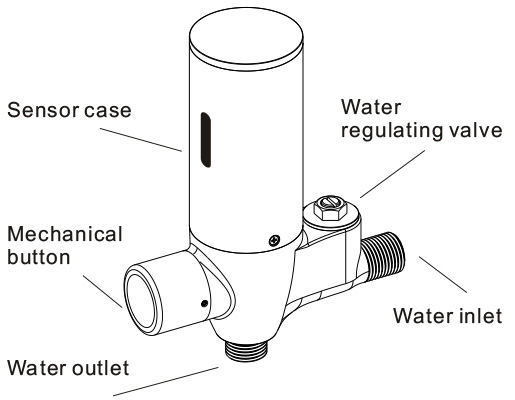 #5. Energy saving. Battery shall last approximately 100 times per day for over one year.
This sensor flush conducts twice-flush programming. Pre-flush is 2 seconds and after flush is 6 seconds. The after-flush timing is adjustable by Rajeyn's remote controller from 3 seconds to 24 seconds based on specific need. The urinal flusher only flushes after-flush if used continuously over 2 times within 1 minute.
Below are trouble shooting during usage.
Problem
Possible Reason
Suggested Solution
Indicator light doesn't light up & no flush
Sensing distance is too short
Adjust sensing distance
No power supply
Please make sure there's power supply
Power adapter broken
Please check power supply and replace power adapter
Sensor broken
Replace sensor
Indicator light lights up but no flush
Check solenoid connection
Please connect solenoid
Check water regulating valve or water supply
Please turn on water regulating valve or water supply
Filter net block-up
Clean the filter net
Solenoid broken
Replace solenoid
Sensor broken
Replace sensor
Have a continuous water flow problem
Solenoid block-up
Clean the solenoid
Water pressure is too high or too low
Regulate water pressure to 0.1-0.7 Mpa
Low water flow
Check water regulating valve
Regulate water flow
Filter net block-up
Clean the filter net
Water pressure is too low
Regulate water pressure to 0.1-0.7 Mpa