Maintaining good hygiene is a part of life; especially now, as we continue to navigate a pandemic.
With the advent of infrared touchless technology, smart products are changing every corner and revolutionizing the way we live, making things simpler and more efficient. Bathroom spaces are no exception, as they take up a lot of our time every day. These smart sanitary wares are designed to anticipate our needs and come with innovative features to provide the best experience.
Public and commercial spaces have always made hygiene a top priority in the design and function of their spaces by introducing hands-free faucets and automatic flushing devices in their facilities. Not only do these products help reduce cross-contamination, but they also save water and energy, and some even look functional and stylish.
Now, more than ever, we are aware of the importance of hygiene, and sensor faucets have proven to be one of the most effective ways to keep homes and public spaces hygienic. Regular handwashing helps prevent the spread of germs, and sensor faucets play an important role in this process. Today it is clear that sensor faucets have become the first choice in residential and commercial spaces for the following reasons:
Comfort and convenience: Automatic faucets are very easy to operate because they work by sensing the presence of a hand or any object. Because of the hands-free convenience, they are the best choice for children and the elderly. Automatic faucet sensors also require low maintenance because they are activated using sensor technology and therefore less prone to wear and tear.
Hygienic: Can you count how many times you wash your hands while cooking? Are you still bothered by having flour and dish soap on hand and needing to turn the water on and off through the handle with your germ-stained hands?
Since the sensor faucet is touchless, nothing extra touches us. These faucets do not require manual handling, so the chance of exposure to viruses and bacteria present on the surface of the faucet is negligible.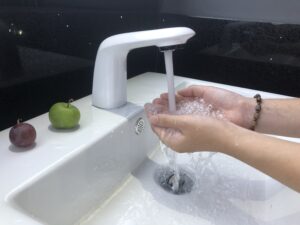 Water-saving: Keeping the faucet running while performing certain chores can result in a lot of water waste. Sensors that control the water on/off function help reduce water consumption and waste by up to 40%. Therefore, induction faucets are considered to be environmentally friendly. Induction tap prices may vary by design, finish, and functionality.
Sensor taps are the answer to functional, hygienic, and energy-efficient living. If this makes you curious about sensor taps and how to use them in your next project, visit our showroom or contact us for more information.