Touch free faucets can make your kitchen sink or bathroom basin cleaner and easier to use. Because you don't need to touch a handle or knob, you can turn the water on and off by motion so germs or bacteria won't be spread crossly in your house. If you plan to have a new faucet, you can consider these advantages of touch free faucets.
3 Reasons to Install a Touch Free Faucet
A touch free faucet consumes less water than a traditional manual one. Here are some of the advantages of touch free kitchen or bathroom faucets:
Money and Energy Saving
When washing hands, it takes about 2 gallons of water each minute. While kids may leave the water running or play with the water when they wash their hands. Elders may forget to turn water off when you step out of the room. As an alternative, a touch free faucet shuts off automatically. Touch free faucets help save water silently and save your money.
Avoid Spreading Germs
Traditional manual faucets can be a breeding ground for germs if you don't clean them often. When you turn on the faucet, you could leave bacteria the handles. While these germs come back when you turn it off. If the faucets can turn on and off without touching, you can prevent the spread of germs and it helps to keep your whole family healthy, especially during flu season.
Better User Experience
People of all ages can use touch free faucets easily. All you need to do is to put your hand in front of the sensor, and it will turn off automatically when you move hands away. Or motion in front of the sensor to turn on and motion again to turn off.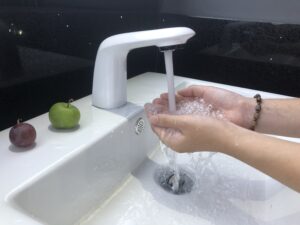 If you want to purchase touch free faucets and want to know more technical details, you are welcomed to contact us.